Thanks For Confirming Your Subscription To The CHASKIUP Digest!
Here's a preview of our upcoming Challenges so you can add them to your calendar. 
CHASKIS Challenges are all about trying something new - together! Each month, we'll challenge ourselves to make one change that will help us to live our BEST lives and achieve BIG fitness goals. 
Here's what's coming up: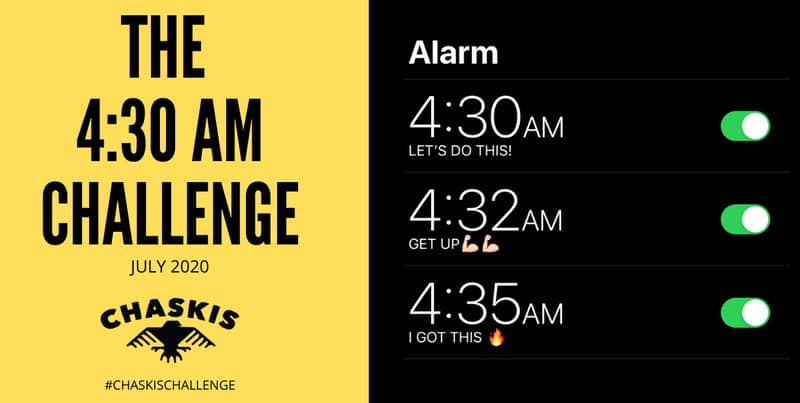 July: THE 4:30 AM CHALLENGE - CHASKIS will challenge themselves to wake up every day in July at 4:30 AM. The days in July are some of the longest in the year for us in the Northern Hemisphere. The goal of this challenge is to make the most of these long daylight hours: get up and meditate, workout, have some "you" time!  Download this calendar to keep track of your progress. To help you prepare for the challenge, we've put together a short bedtime checklist. This is a simple routine you can use to fall asleep early and get a good night's rest.
August: THE 10% MORE CHALLENGE - Each day in August, we'll challenge ourselves to do 10% more than the previous day. A 10% longer run, a 10% longer yoga session, 10% more pushups, etc. The goal of this challenge is to get better each day at assessing where we're at presently and how we can make incremental improvement. 
September: THE UGLY SELFIE CHALLENGE - September we'll be all about working out HARD. The goal of this challenge is to capture an image of yourself after your sweatiest, dirtiest, toughest workouts and post them to instagram. The best image of the month will win CHASKIS gear!
October: CHASKIS CHOOSE SOBER OR SUGAR FREE CHALLENGE - In October, we'll challenge ourselves to cut out either booze, sugar or both. The goal of the challenge is simple - journal about how this change makes you feel throughout the month and note obstacles to making these changes. 
November: THE RUN A FASTER MILE CHALLENGE - November is an excellent time to get out and run. The goal of this challenge is to run each day for as many days as possible during the month, timing each mile to see how you can improve your time over the course of 30 days.
December: THE EAT YOUR GREENS CHALLENGE - December is when we all want to eat and drink to excess with friends and family. This challenge is simply a reminder to ensure you're doing something good for your body every day too.